Just Ducky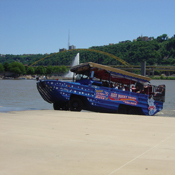 For more than 15 years Just Ducky has been taking riders on Pittsburgh's only adventure through the city on land and water in a vintage World War II amphibious vehicle. Each excursion begins at Station Square, next to the Hard Rock Cafe, before waddling into downtown for the ride of your life.
The DUKW Boat first travels through the city's business district past local government buildings and the headquarters of the area's Fortune 500 companies. You will be awed by the amazing architecture of the Allegheny County Courthouse and learn some fun facts about the modern skyscrapers that call the burgh home.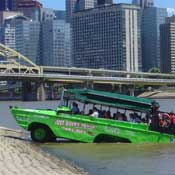 Next up is the Cultural District, the heart of downtown. Guides will wow you with tidbits and fun stories about the area's theaters. You might be especially surprised at how culturally rich Pittsburgh really is.
From Heinz Field to PPG Place there's not a thing you'll miss when you take a Just Ducky Tour. Not even the rivers!!! Yes that's right, just when you think you've seen it all the DUKW effortlessly splashes down into one of the three rivers to offer a picture perfect view of the city skyline...
All the while the Just Ducky crew will keep you on the edge of your seat with fun facts that some Pittsburghers might not even know. And of course, there are jokes. Guides will have you laughing until you're all quacked up...
For more information call 412.402.DUCK(3825) or visit www.justduckytours.com.