Fountain Shows
Shows Every 20 Minutes
9am to Midnight
April through early November
At the heart of Station Square, next to the river, sits the Fountain at Bessemer Court. This state-of-the-art Waltzing Waters® Liquid Fireworks® Show features hundreds of multi-colored water jets soaring up to 40 feet in the air, choreographed to music. The Fountain at Bessemer Court is a tourist and Pittsburgher
must-see
operating late-April through the Friday before Thanksgiving each year. Fountain shows begin at 9am and end at midnight daily. Shows begin at the top of the hour, twenty after and twenty til.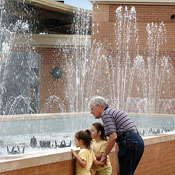 As unique as Pittsburghers, each Fountain Show dances to choregraphed musical arrangements that you'll love to sing and dance along to. Plus, in the summer months, get closer and enjoy the fountain's cooling mist over the crowd.
The Fountain performs over a dozen different shows. Swing to classics with the Frank Sinatra Show, the Abba Show and Diva Disco. Relive songs from Hollywood's big and small screens during the Great Film Themes Show and Classic TV Theme Songs Show. Hear some of the biggest hits from rock, pop and jazz in the 80's Hair Bands Show, Pittsburgh's own diva in the Christina Aguilera Show, a special tribute in the Elvis Presley Shows and the Michael Jackson Show and of course the smooth sounds of the Paul Simon Show. We strike up the band during a special salute to our country in the American's Favorite Marches Show. Kids of all ages will sing along during the Disney Magic Show. And, bring your dancing shoes for the Beach Boys Show, the Country Western Divas Show and the What A Feeling Show. There is certainly something for everyone!